Family association von Stackelberg
Family History – Stackelbergs in Old Livonia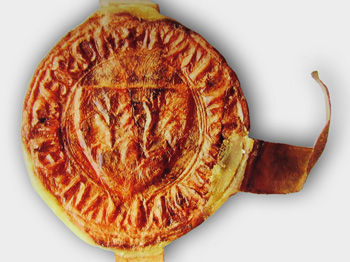 [Seal of 1341]
We do not know whether the first Stackelbergs came to Old Livonia following the call of their bishops or that of the German Order or whether they had trade interests in connection with Hansa.
The first family member mentioned in a Baltic deed is Henricus de Stakilberg in 1305. He borrowed an unusually large amount in Riga and paid it back shortly after (214 marks silver, approximately the annual budget of the city of Riga). Probably it served to finance comprehensive trade business within the framework of the Hanseatic League. Also other family members soon appear in Livonia in important functions. Page Arnoldus Stakelberch, as the representative of the city of Tartu, ends a feud with the city of Tallinn in 1341.
1
He seals the contract with his personal coat of arms. This is the oldest deed bearing our family's coat of arms which is still valid.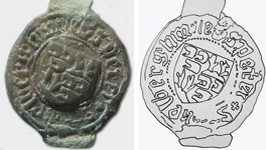 [1394 seal with drawing of 1394 seal]
In 1394, the same coat of arms appears in the city of Lübeck.
2
Knight Peter Stakelberch swears that he is the owner of a shipload of weasel skins. As his home town, he names Brünbeyne (Breuvanne) in the duchy of Luxembourg and seals the deed with his four-part coat of arms the first and fourth fields of which are identical to the Tallinn seal of 1341. The deed confirms that the Stackelbergs in Livonia and Rhineland belong to the same family and that at least some family members were involved in the Hansa trade business.
In Old Livonia, the Baltic states consisted of the areas owned by the Riga archbishop, the bishoprics of Tartu, Oesel-Wieck and Curonia and the areas owned by the German Order. The vasall families living there soon united to form knight organizations, in Estonia in 1252 and later in Livonia, Curonia and Saremaa. Whereas the Stackelbergs are no longer mentioned in Rhineland after the 14th century, they became one of the largest and most influental families in Estonia and Livonia.
1 Reval 1341: City Archives Reval/Tallinn, Bfl.IV, T.57 No.3
2 Lübeck 1394: State Archives document 218-03.tif